The Slow Food Cascadia Summit will include speaker lineups of regional food experts, activists, producers, chefs, and community leaders. The event will include a reception and networking designed to flow into the Cascadian Luau. This summit is designed to attract food movement leaders such as farmers and producers, active Slow Food members, organizational partners, chefs, and other food leaders.
The Summit is broken into two sessions, Rivers as Food followed by Slow Food Revolution. We will break between sessions for a salmon and wine tasting. Wines generously provided by Maryhill Winery.
Check out our speaker lineup below!
Summit Session ONE:
Rivers as Food 12:30 - 2:30
Coastal Trollers, Columbia River Salmon
Joel has been salmon trolling since 1972. He purchased his current boat, F/V Karolee in 1987. He has fished salmon from California to Southeast Alaska.
Joel has served on the board of the Alaska Trollers Association, Coastal Trollers Association and Save our Wild Salmon, an environmental NGO. He has also served on the Olympic Coast National Marine Sanctuary, Pacific Fisheries Management Council Habitat Committee, and the MAFAC Columbia Basin Partnership Task Force. He currently lives in Quilcene, WA
Coastal Trollers, Columbia River Salmon
Amy Grondin has worked since 1993 in the Alaska and Washington salmon industries as a commercial fisherman, fish buyer and small scale at-sea processor. When not on the water, Amy works as a consultant in commercial fisheries outreach and specializes in sustainable seafood. A long time member of Slow Food and the Chefs Collaborative, she advocates for local and regional food systems and has great concern for the health of ocean resources. Amy serves as vice president of the Organic Seed Alliance. She lives in Port Townsend, WA.
Columbia River Inter-Tribal Fish Commission Salmon and Lamprey
SPEAKER BIO:
Jaime is a citizen of the Nez Perce Tribe. In 2009 he became Vice President of the Bush Foundation, a private foundation started in 1953 by 3M executive Archibald Bush in St. Paul, MN. He led the Foundation's Native nations program where he worked with tribes across North Dakota, South Dakota and Minnesota as they redesigned their governing systems. His work led to the creation of the Native Governance Center, a native led non-profit delivering technical support to tribes in government redesign.
Columbia River Commercial (non-tribal) Salmon Fisheries
Award-winning author IRENE MARTIN has specialized in lower Columbia River fisheries for over forty years. Her husband, Kent, is a fourth-generation Columbia River gillnetter. They have fished together in Alaska, the Columbia and Willapa Bay. Her most recent book is The Flight of the Bumble Bee; the Columbia River Packers Association and a Century in the Pursuit of Fish. Irene is currently working on another book: The Incoming Tide of Memory, a History of the Salmon Canneries of the Columbia River. A recent exhibit she created, Legacy of the Columbia River Fishery, incorporated her knowledge of Columbia River fisheries and images and artifacts from a number of collections, including that of her husband. She resides in Skamokawa, Washington.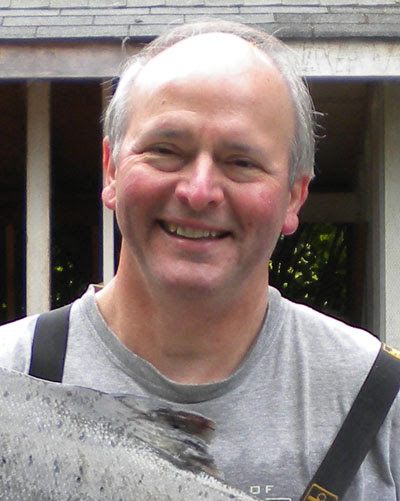 Columbia River Commercial Salmon Fisheries
Robert Sudar grew up in the Puget Sound purse seine community in Tacoma and began fishing in 1971 to put himself through college. He continued fishing summers in the San Juan Islands after graduation. In 1983 he added marketing to his involvement, and after moving to Longview in 1981 he slowly transitioned to just marketing Chinook, Coho and sturgeon from the Columbia River gillnet fishery. He has also been a commercial fishery advisor to the Department of Fish and Wildlife for both the Columbia River and Puget Sound for 30 years. He markets most of his fish to the Seattle-Tacoma area, to many of the same businesses he worked with 35 years ago.
Wild Olympia Oyster
As a second-generation shellfish farmer, I'm energized by Slow Food's focus on saving foods that are dying out. The Olympia oyster in our area is making a comeback. But this delicious native protein from our local waters will die out completely if we don't protect and promote it. I'm a part of Slow Food Cascadia to tell its story and to hear about other vibrant foods that grow throughout this region.
BREAK - Salmon and Wine tasting 2:30 - 3:00
Wine provided by Maryhill Winery and Alaska King Salmon Tails provided by Seafood Producers Co-op in Bellingham.
Summit session TWO:
Slow Food Revolution 3:00 - 4:30
Harvesting History at Willamette Falls
This summer, with a GoPro in hand, I was guided by my cousin to the Willamette Falls to capture images of him harvesting the lamprey fish in the traditional way our people have been doing since time immemorial. Although this adventure was partially for work, the harvesting experience quickly became deeply personal as a young person carrying on the history of my people. Learning about how the lamprey was incorporated into my ancestors' way of life -- in the very place they gathered them -- was an experience unlike any other. Sharing the interconnected histories of the Grand Ronde tribal people, the lamprey and the Willamette Falls helps preserve the PNW's unique cultural richness and educate on the Native identity which still exists today.
Living in Harmony with bees, bugs & other pollinators
Let's celebrate the caring ways humans and bees exist in harmony. By making considered choices about how to live respectfully with Nature, we can make a big difference in the lives of bees and other bugs and pollinators.
Slow Tools for growing Slow Food
Josh is vegetable farmer and the author of the book "Compact Farms: 15 Proven Plans for Market Farms on 5 Acres or Less" from Storey Publishing. He has been a Slow Food member for more than 20 years, and is also involved with the Slow Tools movement which seeks to further Slow Food production through appropriate technology development and sharing. He currently farms in Portland, Oregon at Cully Neighborhood Farm.
Social movements through food
The growing of corn and its processing into masa and tortillas is one of the great hallmarks of Central and North American cuisine. Due to colonial and industrial practices, corn growing and processing traditions have been exploited and highly degraded. Fortunately, Indigenous and Indigenous descent communities have preserved the traditions that support the earth, the farmers, and the consumers of corn. Three Sisters Nixtamal of Portland, Oregon encourages a reclaiming of Corn Spirit through the sourcing of organic and land race corns, minimal processing, stone grinding, and authentic tortilla making. As more people understand where their food comes from, they may make choices in community, supporting a movement that values culinary tradition and the health of the earth from farm to table.
Using Edges and Valuing the Margins: Making Peace with Invasive Species
Invasive species are often considered in a negative light, but they provide important functionality in compromised ecosystems, and many can be harvested and used to diversify both habitats and income streams. This presentation will cover how to think differently about invasive species and how to make best use of them with the goal of enhancing biodiversity and land-based livelihoods.